Army.ca Relic
Subscriber
Donor
Reaction score

8,526
Points

1,160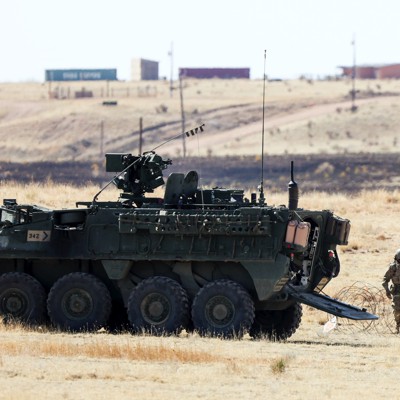 The challenges include trying to install them and making sure they don't run out of range.
www.defenseone.com
Small Radios On Armored Vehicles Will Be a Big Step Toward the Army's Networked Future​

The challenges include trying to install them and making sure they don't run out of range.​


BY LAUREN C. WILLIAMS

SENIOR EDITOR

OCTOBER 11, 2022

Handheld tactical radios are officially entering the chat for this year's

Project Convergence

, the Army's annual large-scale effort to try out new tech.

Putting small radios aboard armored vehicles promises to improve mobile communications and reduce the need for full-blown command posts. Testing them at PC '22 may illuminate the challenges of realizing that promise—and even accelerate the arrival of the connect-it-all

Integrated Tactical Network

.

PC '22 will be "the first time we're touching an armored platform," said Shermoan Daiyaan, the program manager for small tactical radios for the Army's

Program Executive Office—Command Control Communications-Tactical

. "And that's a big deal."

Before the PC '22 demonstrations

kick off in various locations

this fall, the radios will be installed aboard various vehicles belonging to an armored brigade combat team based at Fort Hood, Texas. Daiyaan said that's where the challenge starts: figuring out how to run the cables and installation kits, learning their limitations for each vehicle and its variants. The Stryker, for example, has more than a dozen main variants with sub-variants for each one, which makes every installation different.

"It's the first time the guys are really climbing around in the back of those vehicles. So they're learning how to do those installs, the limitations of those installs. And so when we get to the shift to armored brigades in a year or two, we know more than we would have," he said Tuesday at the Association of the U.S. Army's annual conference in Washington, D.C.

After installation, the next challenge is configuring the radios for use on moving vehicles. Today, such radios are generally used on the battlefield by dismounted soldiers or at company and battalion command posts. But vehicle-mounted radios can easily get out of range "because they weren't set up correctly. So we're making adjustments," he said.

"What we're doing with dismounts, it's hard to outrun the network because it's just a couple of guys. But when you're in a vehicle, you can get 10 [kilometers] away from each other really quick. Or in the case of my radios with a mesh network, it's like 3 km, so you can do that really quick by just making the wrong turn."

After that comes PC '22 itself and trying the radios out in combat-like situations. For Daiyaan and his PEO C3T team, the demonstrations will be a "free look" because they weren't originally scheduled to participate. In any case, this isn't a formal test, but a chance for the Army to get a sense of what it needs from its tactical radios as it

upgrades

its armor formations. The service has been experimenting with putting network capabilities onto armor vehicles throughout the year.

Under the Army's Integrated Tactical Network plan, a

new set of capabilities

is added every two years. The 2023 set, for example, will network Stryker Brigade Combat Teams on foot and in vehicles. The goal for the 2025 set is to network other types of armored vehicles. PC '22 will be the first time the team will get to put that gear in action. Feedback from the demonstrations, which will involve the joint force and coalition partners, will inform what happens in 2025.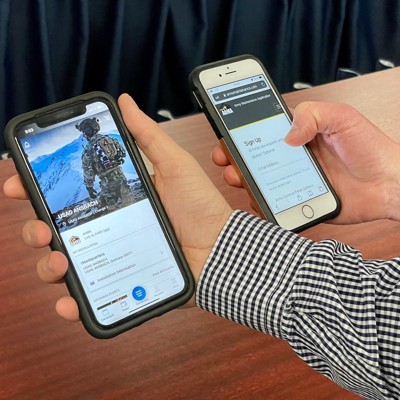 Unlike other Pentagon BYOD efforts, this one taps the cloud for a secure remote work experience.
www.defenseone.com
Soldiers Can Use Their Phones For Work Under New Army Pilot​

Unlike other Pentagon BYOD efforts, this one taps the cloud for a secure remote work experience.​


BY LAUREN C. WILLIAMS

SENIOR EDITOR

OCTOBER 5, 2022

The Army's bring-your-own-device pilot is live, and waiting for 20,000 users to jump on board.

"Army BYOD is here! I made my first [Microsoft] Teams call using my personal phone today with the wonderful Lily Zeleke, deputy DOD CIO," Army CIO Raj Iyer

exclaimed

in a LinkedIn post on Sept. 30.

The Defense Department has

several

bring-your-own-device efforts that let people use approved devices for work. Despite its

security challenges

, the concept has gained traction in recent years as defense and

intelligence communities

were encouraged to use maximum telework policies and technologies early in the COVID-19 pandemic.

Unlike the department's other BYOD efforts, the Army's process "provides secure access without actual data being processed on the device", an Army spokesperson told

Defense One

via email.

In the Army's version of bring-your-own-device, data isn't stored on the device itself, but rather pixels are streamed in, with the data remaining in the cloud. That means users won't have to surrender their personal devices to be managed by the Army, or risk confiscation if there's a security breach.

Related articles

Army Eyes Tactical Cloud Computing The Army Wants to Change How It Manages Cyber Risk

"The call was flawless with no degradation in video quality even though the

Hypori Halo app

is streaming pixels from the

cARMY cloud

to the mobile device," Iyer wrote.

The pilot, which has been

in the works

for more than a year, will accept 20,000 users across the Army, including 5,000 in the National Guard, 5,000 in the Army Reserves, and 10,000 active-duty and civilian workers. The first users joined the Army BYOD environment on Sept. 30, after the service conducted "additional cybersecurity testing" and assessments of the process before the launch.

The BYOD pilot is one of several Army IT modernization efforts, which also include moves to

cloud-based email

and

Google Workspace

.

Moreover, Iyer envisions the Army completely switching to a virtual desktop infrastructure for unclassified and classified work in the next two to three years.

The Army plans to add those initial 20,000 users over the next year and gather feedback on how effective it is. Senior leaders are expected to analyze the pilot program's results early next year and plan an Army-wide deployment in fiscal year 2023.
I can only imagine that the Ukrainian experience, co-opting civilian capabilities and managing associated risk, is having an accelerating effect on these efforts.